Category Archives:
Medical Humor
Looks like they are cheating and not even using the tweezer instrument.
Once open surgery is dead and it's all NOTES, and IR interventions, we will have this as our open surgery simulator! I want to get my FOS(Fundamentals of Open Surgery) pin to go along with my FLS(Fundamentals of Laparoscopic Surgery) pin.
You have to hand it to the creators of the game, apparently they made the simulator in less than 48 hours.
You can play the game here, but it requires a plugin install.
Being a Techie I can't help but relate to this.  Can't tell you the number of times I had people reboot their routers when I worked phone support in college.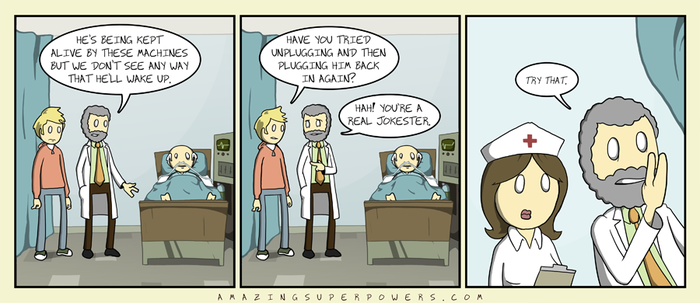 Grabbed this bit of medical humor at http://www.amazingsuperpowers.com/2013/01/life-support/