Cancer patients undergoing major oncologic surgery may decrease their risks of deep venous thrombosis(DVT) and Pulmonary Embolism(PE) by using an epidural for pain management. In a recent article published in JAMA Surgery(Previously Archives of Surgery) titled Thromboprophylaxis and Major Oncologic Surgery Performed With Epidural Anesthesia the surgical oncologists at Cedars Sinai note that in their retrospective analysis of their prospective database that their patients who underwent epidural anesthesia without chemical prophylaxis had similar rates of DVT to those that had chemical prohpylaxis.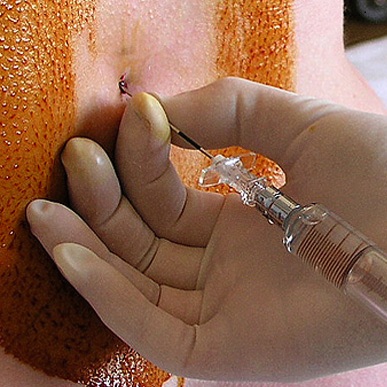 .
The author states that a previous review of 26 randomized controlled trials in surgical cancer patients yielded a DVT rate of 35.2% in those without any prophylaxis, 12.7% in those with chemical prophylaxis alone, and 5% with chemical and mechanical prophylaxis.  They then reviewed 119 patients of theirs that had an epidural and no chemoprophylaxis but did have mechanical prophylaxis and early ambulation, and noted that their asymptomatic screening ultrasounds had detected a 6.7% DVT rate and that only 0.8% had above knee thrombosis. Of note some of these patients did receive chemical prophylaxis after the epidural was discontinued.
I was previously unaware that spinal anesthetics had demonstrated decreased DVTs and would have expected these results only because of better pain control resulting in better and earlier ambulation.  The article cites several articles from orthopedic literature that demonstrate decreased thrombotic events with spinal anesthesia as well. Some of the theories of the mechanism for this include decreased sympathetic response with epidural anesthesia resulting in improved lower extremity blood flow and cite that sympathetic stimulation alters levels of coagulation factors resulting in increased Factor VIII, inhibited fibrinolysis, decreased antithrombin III, and increased platelet aggregation. Apparently the systemic absorption of local anesthetics can act as a anticoagulant.
Take away message for me: There may be some evidence that we can be less aggressive in chemical prophylaxis in patient with epidural anesthesia.